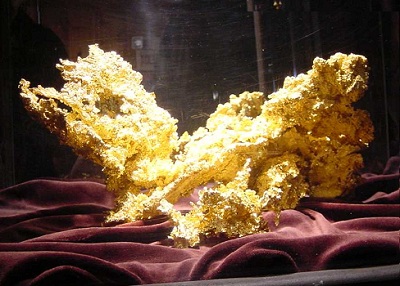 The Fricot Gold Nugget is one of the finest crystalline gold specimens in existence today. It was discovered in Eldorado County, California in 1865.
Located in the heart of California's Mother Lode Country, Eldorado County is well known for producing some spectacular museum grade gold nugget since the days of the early gold rush. Numerous gold nuggets weighing several pounds were found throughout the area, many of which had rare crystalline structure similar to the Fricot Nugget.
Also Read: Oregon's Largest Gold Nugget on Public Display
Sadly, the vast majority of the large nuggets found during the California Gold Rush were sent off to the refinery to be smelted, but a few spectacular specimens still exist today.
The story of unearthing the Fricot Nugget starts roughly ten years prior to its discovery, when the a rich gold bearing quartz seam was discovered in northern Eldorado County in 1854. Many rich mines were developed in the area, which came to be known as Spanish Dry Diggin's. One of those mines within the area was the Grit Mine, which came to be known as one of the richest gold producers in the area. The mine continued to produce and was worked profitably for many years.
1n 1865, a miner by the name of William Russell Davis was mining a quartz stringer at approximately 200 feet underground when he hit a rich pocket of gold. It was said that he exposed countless gold specimens from the pocket, the largest being the now famous Fricot Nugget. The nugget weighs 201 troy ounces, a massive chunk of crystalline gold that is one of the finest old specimens in the world.
The Fricot Nugget has traveled around the world. It has been a part of numerous exhibits including the Paris Exposition in 1878.
The nugget is currently housed at the California Mining and Minerals Museum in Mariposa County, in the heart of California Gold Country.
The Fricot Nugget was nearly stolen in 2012, when thieves broke into the museum and stole millions of dollars' worth of gold nuggets that were on display there. They attempted to steal the Fricot Nugget, but were unable to smash the case that held the nugget, so it was not taken.
Next: The Largest Gold Nugget found in Alaska