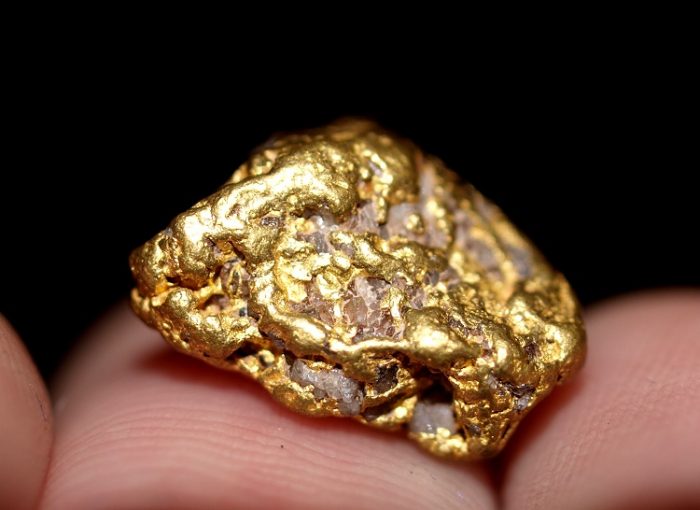 Some of the newer metal detectors on the market are now totally waterproof, and this is a great feature that allows us to hunt in places that we just couldn't before.
Water-resistant metal detectors have been around for a while. They are nice for detecting in the rain, but they can't actually be submerged in a river without causing damage.
Waterproof detector coils have been around for a while too. This allowed us to search in shallow water, but you couldn't get the control box wet. There was always a concern that a slippery rock could cause a fall that would ruin your detector.
Fully Waterproof Gold Detectors
These three metal detectors are great for underwater gold nugget hunting because not only are they fully waterproof, but they are also excellent gold detectors in their own right. They are good detectors in and out of water.
Garrett AT Gold

The Garrett AT Gold is one of the most popular metal detectors on the market right now. It is made by Garrett, one of the most reliable names in metal detector technology.
It can be submerged up to 10 feet.
This detector is very sensitive to small gold, and it can also be used to located streaks of black sand which might contain fine gold dust.
Garrett ATX

The Garrett ATX is the first offering by Garrett that provides Pulse Induction technology to nugget hunters. It is durable, compact, and designed to withstand hard use.
The ATX is fairly simple and straight forward to use and set up. It is a user friendly gold detector.
The advantage of this detector is that it can detect large gold nuggets very deep. It has large coil options too. If you want to search for big nuggets deep down in the bedrock cracks of a river then the Garrett ATX is what you want.
Minelab SDC 2300

The Minelab SDC 2300 is becoming a favorite among nugget hunters, and not just because it is waterproof. It is an amazing gold detector all by itself.
It uses pulse induction technology, yet it comes with a small coil and is really best suited for hunting in the cracks of bedrock in places where to small 8" coil can fit.
If you have the budget for it, the Minelab SDC 2300 is probably the best underwater gold nugget detector on the market right now. Just consider that the Garrett AT Gold is nearly $3000 cheaper.
Also Read: 15 Metal Detectors that will Find Gold Nuggets