The Largest Gold Nugget Found in Alaska
The largest gold nugget ever found in Alaska was discovered in 1998.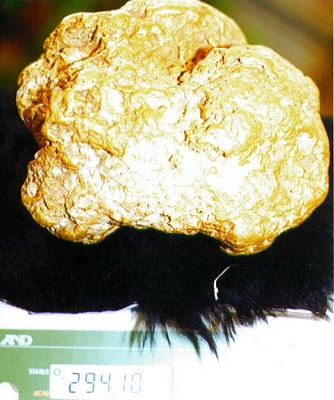 It was recovered from a placer mining operation near the small town of Ruby, Alaska by Barry Clay. He was moving material with a bulldozer along Swift Creek when something unusual caught his attention. He jumped out of his dozer and examined the object, which turned out to be a massive gold nugget.
Further examination of the nugget revealed that it weighed a massive 294.1 troy ounces, which made it by far the biggest gold nugget to ever come from Alaska. Since it was found exactly 100 years after Alaska became a state, it was named the Alaska Centennial Nugget.
It still holds the title of being the biggest gold nugget ever to be found in Alaska, and it is the second largest ever found in the western hemisphere.
The Alaska Centennial Nugget is certainly an exceptional find, but Alaska is known to produce large gold. There are many districts in throughout the state that routinely produce nuggets that weigh several ounces in size. Of course just as with all other areas, the vast majority of gold found comes in the form of small dust and flakes, rather than nuggets, but occasionally there are exceptional finds like this one.
Big Gold Nuggets in Alaska
Another place in Alaska that had a great reputation for producing quality gold nuggets was at Ganes Creek. For several years, a pay-to-mine operation was set up at Ganes Creek, where people from all around the world would come to try their luck.
Metal detecting was by far the preferred prospecting method, and lots of huge nuggets were found there over the years. The pay-to-mine operation is no longer running, but the mine is still operational and undoubtedly producing more large nuggets still today.
Other large nuggets have been recovered from Anvil Creek in Nome, the Brooks Mountains in northern Alaska, and in Fairbanks just to name a few.
Read: Alaska Gold – The Richest Mining Districts of the Last Frontier
Finding Gold like this…
Gold prospecting in Alaska is a dream for many gold prospectors in the lower 48 and around the world. One word of caution though; Alaska is a huge state, and gold nuggets are not evenly distributed. Just as with any other area, it is important to do the research and identify known areas that have produced gold in the past. These are the areas that are most likely to still produce gold for the prospector today. This is especially true if you are seeking large gold nuggets.
The Alaska Centennial Nugget is currently the largest gold nugget to ever be found in Alaska, but it is very likely that there is an even larger nugget out there somewhere waiting to be found. With a little research and whole lot of luck, maybe you will be the one to find it!
Next: How Placer Gold is Deposited in Creeks and Rivers