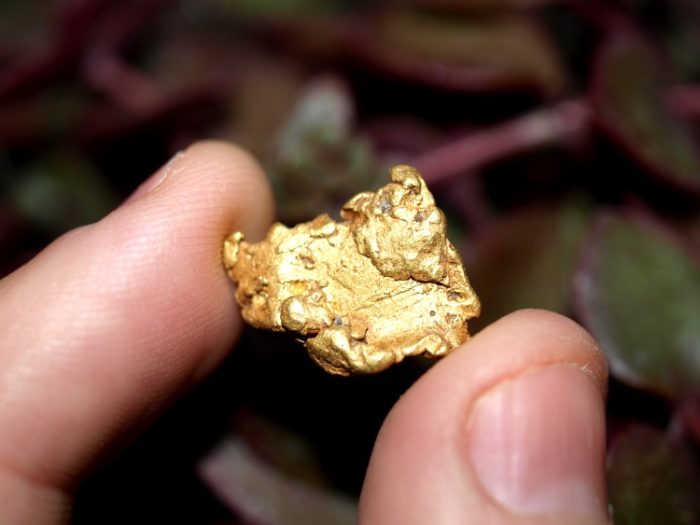 California is one of the most gold rich states in the U.S. and a simple gold pan is an excellent way to find a little color.
Since 1848, there abundance of gold in California has been well known, and even today there are huge amounts of gold left to be recovered. Unfortunately, recent bans on suction dredging have hindered hard working gold prospectors, but other methods can still be used to find gold.
For the beginning prospector, if you are fortunate enough to live in a California then there is likely to be several areas nearby that you can find gold.
Easy Places to Go Gold Panning in California
Below are some great places that you can go panning for gold. Of course you are not limited to just these areas, and I always recommend doing research to find areas that are off of the beaten path will often be more productive than the areas that have been searched hard. Still, if you are looking for a simple place to take to kids and wet a gold pan, these are some great options.
Auburn State Recreation Area – located one mile south of Auburn on Highway 49, this area provides ample opportunity to prospect for gold. Be sure to check directly with officials to get the latest regulations related to panning.
Columbia State Historic Park – panning lessons are offered for a small fee. Great for kids to learn gold panning.
Eldorado National Forest – the Forest Service has several places open to public prospecting within the forest. Of course, prospecting is allowed throughout the forest, but be sure to check claim status as most waterways are already claimed up.
Hangtown's Gold Bug Park and Mine – a historical attraction in the heart of California's gold country. Guided tours and other mining related activities.
Malakoff Diggins and State Park – located in the historic Nevada City, CA, the site of California's largest hydraulic mine. A truly amazing sight to see if you enjoy mining history.
Marshall Gold Discovery and State Park – The site where gold was discovered on the South Fork of the American River. Many miles of creek and river open for recreational panning.
Tahoe National Forest – there are several designated sites open to public panning within the Tahoe forest. Most of the forest is open to prospecting, but always respect private claims.
Gold Country Prospecting – located in Placerville, offers 3-hour panning courses to get you started finding gold.
Roaring Camp Mining Company – located in Pine Grove; offers lessons for all types of prospecting
Jensens Pick and Shovel Ranch – instructional gold prospecting business located in Vallecito. Offers panning, sluicing and dredging opportunities.
There are many other great opportunities to pan for gold in California with minimal or no cost.
Keep in mind that some of the places listed will charge a small fee to prospect. However, you are "good to go" at these places and usually all equipment will be provide.
Other places on this list such as sites on National Forest do provide ample prospecting opportunities, but you will need to be aware of active mining claims.
Next: The World's Largest Gold Nugget Discoveries