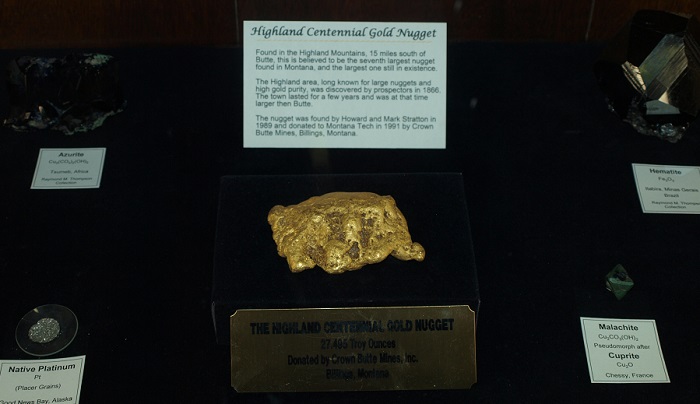 Lots of people believe that the "old timers" found all the gold, but there are still some amazing discoveries being made.
One of those discoveries was made in Montana as recently as 1989. A gold nugget weighing over 27 troy ounces was unearthed by placer miners from a known mining area south of Butte.
Mining in Montana
It's no secret that there is gold in Montana. In fact, the state capital of Helena was founded after a rich gold discovery was made just south of the city. There are dozens of other mining towns scattered around the the state, primarily in the more mountainous sections of Western Montana.
This big nugget was reportedly found on Basin Creek in the Deerlodge National Forest, about 15 miles south of Butte. This is a major placer gold mining district, one of many in the state.
Mining is a big part of the history of Butte, but it was the massive copper mines throughout the town that most people know about. Gold gets much less attention.
The Odds of Finding a Gold Nugget weighing Several Pounds
So how many nuggets like this one have been found in Montana. Well, the records on this sort of thing aren't very detailed. Since most of the gold mining took place back in the 1800s, and gold was only valued for the price that it was smelted, many big nuggets were never recorded.
The best we are aware of, this 27 troy ounce nugget is in the Top-10 of all time. Big gold nuggets like this are exceedingly rare. They were rare even during the first gold rush to Montana, but they are even rarer today.
There are lots of hardcore gold prospectors who search for gold their entire lives and never find a gold nugget anywhere close to this size. Needless to say, it is quite a find.
Also Read: The World's Largest Gold Nugget Discoveries
Go and See it!
We are lucky because this huge nugget wasn't melted down. It wasn't sold to a private collector, and it isn't hidden away in someones safe deposit box.

It's actually on display to the public!
You can see it at Montana Tech University in Butte. They have an impressive mineral display there that features lots of gold, gems, and rare minerals from Montana. In a huge safe is a gold collection that includes this monster nugget.
It is a rare chance to see such an amazing piece of gold on display. If you make it to Butte you have to see it!
Next: Gold Prospecting in Montana