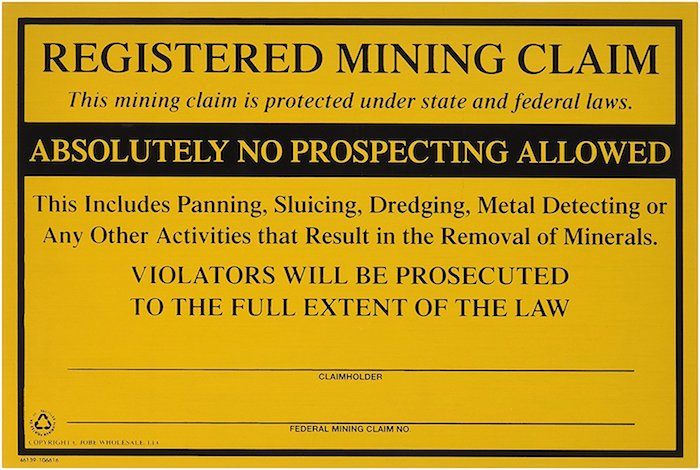 Even though official federal mining laws have been around for over 140 years, many people are still unaware of just how a person can research and stake a proper mine claim. Many new mining operations are smaller endeavors that are based on finding a potential claim on public lands, and there are still plenty of good gold bearing areas that are open for claim.
The Mining Law of 1872 is the basic federal law that governs researching and claiming mining minerals that are on property managed by the US and is deemed to be free and open for exploration. This particular law provides for the ability of a citizen, group or company to explore, discover, and purchase certain types of mineral deposits on the land. Since then, there have been certain laws enacted such as FLPMA in 1976 which offers new information, but the basic mining law is still in place.
What is a Mining Claim?
Basically, this is claiming a particular piece of parcel property for the purposes of mining the certain minerals found there. The three basic types of minerals that are minable are federal lands are locatable, leasable and can be sold. These are public domain lands where the minerals can be sold. There are many different types of minerals and each has their own specific rules and regulations.
There are two types of claims that can be made, load and placer. A lode claim generally includes the classic-style veins found in mineralized rock containing gold or other valuable minerals. You can claim a vein that is no more than 1500 feet long and 600 feet wide.
A placer claim is basically any claim found outside a classic vein. In other words, a claim is a deposit of minerals that have not formed into the classic mineral veins. The maximum size for a placer claim is 20 acres per locator or 160 acres for up to 8 or more locations. You will need to check with specific state laws as to the type of claim that you are making, as there are variations from state to state. Placer claims are the most common type that is staked by small-scale miners today.
Also Read: What is the Best Metal Detector for Gold Nuggets?
How to Stake a Claim
Basically, you need to clearly identify the boundaries, following all state and federal regulations as to the size of the claim. The state that you are locating your claim will have published the statutes and regulations that govern staking claims, so the information should be clear and readily available. First, the prospector should uncover any records of a claim made in that specific area before marking the ground. This applies to both load and placer claims found in the area. You must ensure that there is not already a valid claim in place already, as you cannot legally place a claim over another existing claim, regardless of the type.
Any US citizen who has reached the age of discretion under the law can file a claim along with legal immigrants as well. Also, corporations and businesses may file claims if they follow the proper guidelines. There is federal land in 19 states where mines can be located, although there are certain types of land including National Parks and Monuments, Indian Reservations, reclamation projects, military usage and so forth which may place restrictions.
Once you have staked the claim, the next step is to record it at the proper BLM state offices. You must show up in person as faxing or sending by email the documents will not be recognized. Once recorded, the claim is now yours, but you must be sure that you continue to file your annual paperwork and fees on time every year to ensure that you retain your claim. Check with the local BLM office in your area so that you fully understand the process.
Next: Highbanking for Gold